The three categories of risk every procurement function faces in 2021
By Critical Input Senior Consultant James Brown.
As a consultancy that works with a number of mining, infrastructure and heavy industry organisations, Critical Input has been observing some recurring themes, which we believe every procurement function needs to consider during their post-pandemic reset. The leading challenges can be placed into three categories; governance and risk, digital integration and Supplier Relationship Management (SRM). Some of these conundrums may have always been there, but in the absence of a major global crisis, they've quietly laid dormant. Now that Covid-19 has exposed the vulnerable underbellies within supply chains, it's time to take a closer look and investigate ways to better protect – or even inoculate – against future worst-case scenarios. Let's look at these key categories and the challenges they present and explore solutions to best address them.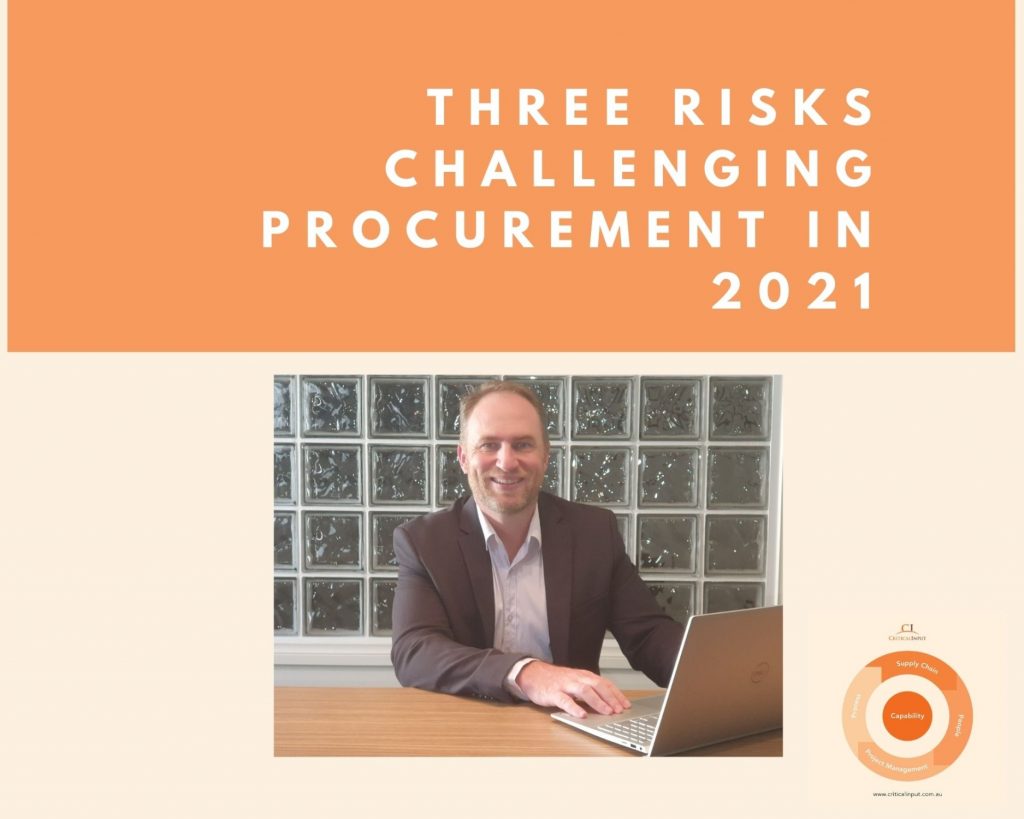 Governance and risk:
It's always been there, but the past year has highlighted how fragile and unprepared we were for a black swan event such as Covid-19. This risk remains top of mind for procurement teams. Many industries have reviewed the security of supply, but the next step relates to developing an ethical and sustainable supply chain. Good governance of supply chain management now includes ensuring local content, supplier diversity, sustainable practices and low carbon footprints while guarding against modern-day slavery risks. To counteract geopolitical, legislative or logistical risks, many larger organisations are investing in expanding their network of local suppliers. Some of these partnerships are proving successful, while others are falling short of expectations with businesses at a loss on how to further progress.
Digital integration:
The software and technology space has significantly evolved during the past five years. We're seeing an increased number of dedicated technology solutions addressing procurement issues. But it's creating clutter and often detracting from the real issue, which is poor processes. For these solutions to integrate with other technologies within the organisation, the solutions are becoming too generic and often do little to enhance procurement efficiency. With technology providers driving the solutions, rather than procurement or business teams, the technology isn't delivering the promised panacea. This has led to frustration within procurement teams where process issues remain unaddressed.
Collaboration and Supplier Relationship Management (SRM):
Most well established procurement teams are running category management or strategic sourcing events with promising outcomes. But after finishing on a high, findings seem to be filed, never seeing the light of day. The benefits of SRM have been difficult to quantify due to a lack of tangible measurement. After all, when the Chief Financial Officer (CFO) asks for the cost benefits, "good relationships" don't show on the balance sheet. Yet, without certain components within the supply chain process, some businesses could be wiped out entirely. During Covid-19, organisations that invested in building supplier relationships were able to achieve security of supply that would have otherwise been unattainable. What price do we put on surviving the unimaginable? Given that SRM has the power to make or break a business during a crisis, SRM needs to be formally recognised. Progressive organisations are already moving to factor it in as a standard future way of working, in a similar way in which they might take out an insurance policy.
Where to now?
At Critical Input, our extensive experience in these three key areas, coupled with our Supply Chain Review (SCR) tool that addresses the trio of concerns, can assist in answering the dilemmas these issues create within an organisation.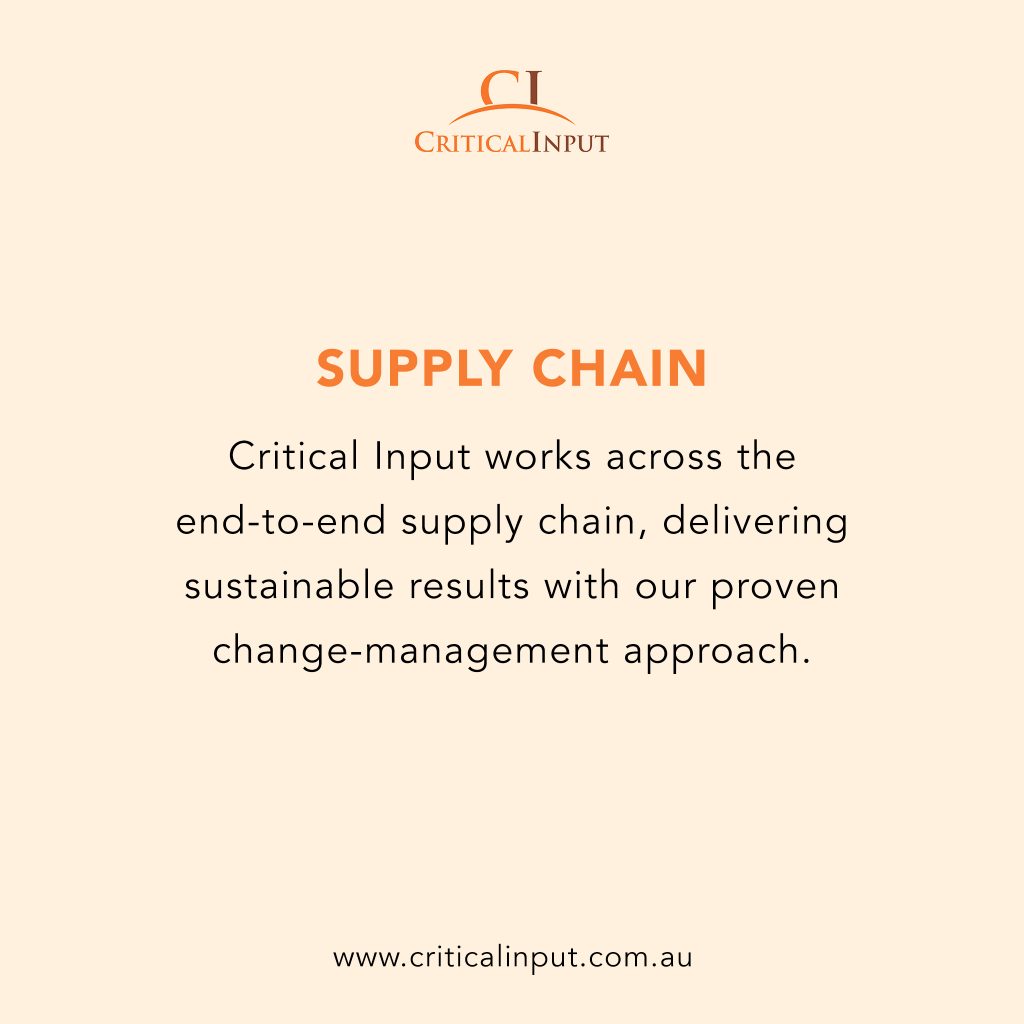 Critical Input Supply Chain Review (SCR) Service
Now, more than ever, organisations need to understand the status of their supply chain. That's why Critical Input offers a Supply Chain Review Service. This quick, external review provides valuable data and evidence for improvements or changes.
Critical Input's Supply Chain Review (SCR) service provides a snapshot of your organisation's supply chain, its maturity and what improvements may be required.
The qualified and quantified review looks at all elements of your end-to-end supply chain and captures its capability and capacity, then recommends opportunities for improvement if required.
We see the below functions as part of the end-to-end supply chain spectrum:
Management
Strategy
Procurement
Purchasing
Contracting
Contract management
Category management
Vendor management
Demand management (interface with capital and operations)
Inventory
Master data management
Warehousing
Logistics
About the author:
Critical Input Senior Consultant James Brown is an accomplished and goal-driven manager with more than 20 years of experience in strategic and tactical business leadership. Based in West Australia, James' expertise includes managing business process change to achieve maximum results with effective planning and communication as well as a solutions-oriented approach to organisational challenges. Armed with a Bachelor of Commerce and an MBA, James specialises in transformation and capability uplift, particularly within the context of supply chain and procurement in heavy industry.
https://www.criticalinput.com.au/wp-content/uploads/2021/04/three-risks-challenging-procurement-in-2021.jpg
1500
1875
CRITICAL Input
https://www.criticalinput.com.au/wp-content/uploads/2021/12/CI-Logo.png
CRITICAL Input
2021-04-20 01:58:06
2021-12-16 01:51:56
The three categories of risk every procurement function faces in 2021