In conversation with Steph Cush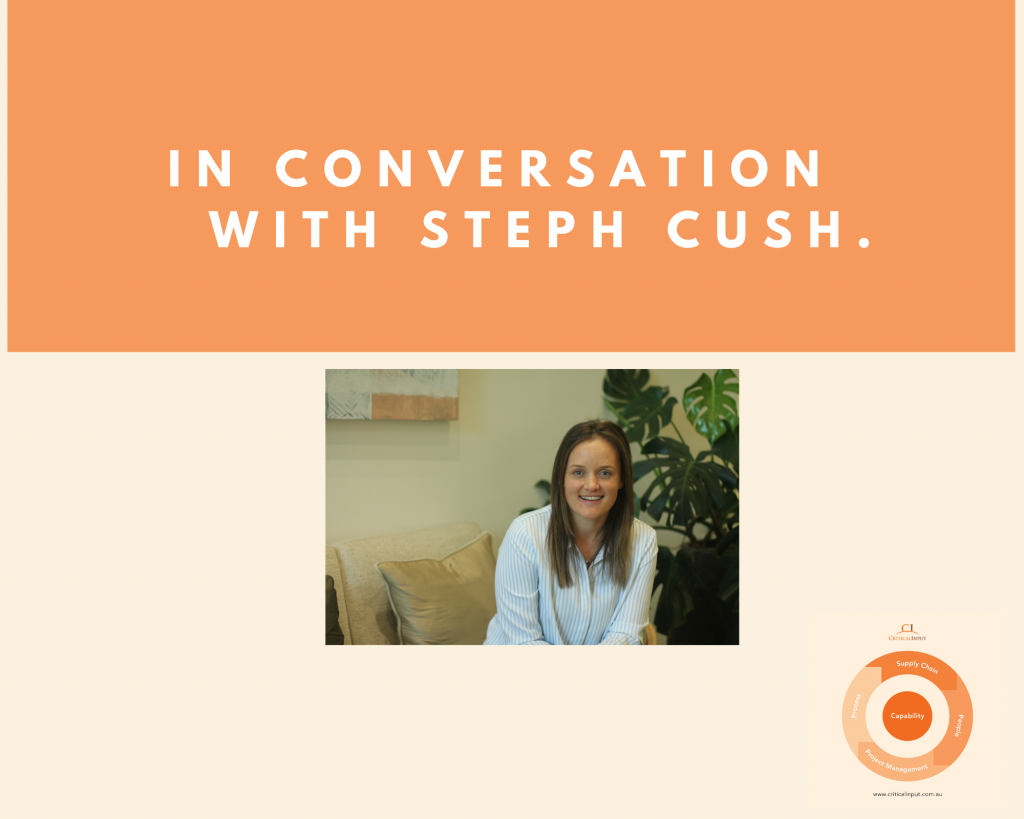 Senior Consultant with Critical Input Steph Cush joined Critical Input in 2017, bringing her warmth, adaptability and willingness to roll her sleeves up and get the job done. Steph is a great team player who brings a practical approach to her work and thoroughly enjoys developing new connections on each project she works on. Here we catch up with Steph to hear what's keeping her busy and what's inspiring her.
What are you currently working on?
I'm working on a project with Sydney Water in the Helix space. It involves building process maps and ensuring alignment with these processes and their training requirements to ensure consistent information will be available to the user. I'm part of a great team within Critical Input, but also connected with some incredibly helpful and friendly Sydney Water people to gain access to information. 
Can you tell us about a piece of work that made you feel proud?
I met some really intelligent, motivated subject matter experts during a project for Coronado Curragh. I love being part of a great team and I felt privileged to learn from these individuals and contribute to the development of this piece of work. 
Is there a colleague you'd like to give recognition to?
My colleague Tom Whiting is a superstar. He has the most natural ability to lead and encourage his teammates and is clear, informative and patient. He's a true asset to Critical Input.
Have you observed positive (work) outcomes that have come out of Covid?
Technology has been pretty amazing throughout this time – it can be painful at times but overall it's been hugely positive. It's amazing how much you can still feel part of a team even when separated by closed borders. 
What is most important to you right now on a more personal level?
I've recently moved to Sydney, so developing a new community down here is important to me. This is pushing me out of my comfort zone and encouraging me to say 'yes' to new opportunities. 
https://www.criticalinput.com.au/wp-content/uploads/2020/01/stephanie-Cush-best.jpg
2848
4272
CRITICAL Input
https://www.criticalinput.com.au/wp-content/uploads/2021/12/CI-Logo.png
CRITICAL Input
2021-04-01 12:34:02
2021-12-16 01:51:56
In conversation with Steph Cush