Meet Critical Input Senior Consultant Melanie Purcell
Critical Input Senior Consultant Melanie Purcell has clocked up nearly 20 years' experience in all stages of contract development, including strategy development, tender preparation, drafting, negotiation, evaluation, contract award, contract administration, dispute resolution and close-out. She has worked with a variety of contract models across the water, mining, oil and gas, construction, petroleum, transport, defence, rail and manufacturing industries assisting both government and private clients. Armed with a law degree, Melanie is well respected for her integrity, work ethic, attention to detail and perseverance at successfully achieving challenging deadlines and complex project outcomes. She has a proven history of managing diverse teams, risk, expectations and change through collaborative leadership, a strong team culture, and a focus on probity and compliance with organisational governance.
Why Critical Input?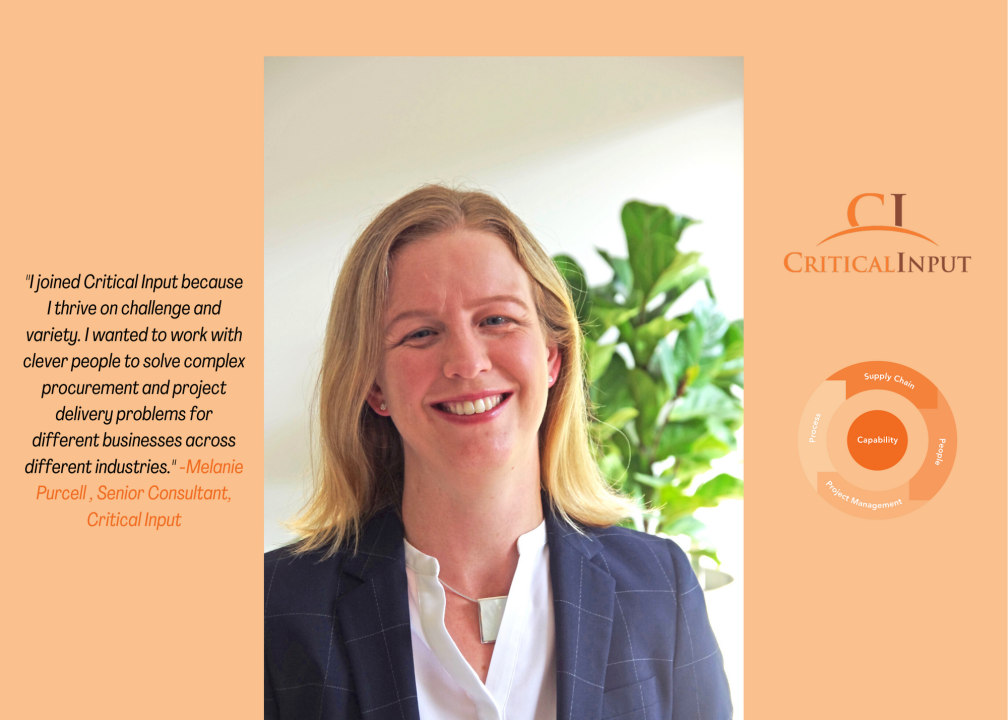 What are you working on right now?
My current focus is supporting TransGrid on the Supply Chain Business Improvement Program. The Supply Chain Management function is a relatively new addition to the business, so it needed a short, sharp intervention to fast-track process improvement and realise benefits for its internal and external customers.
What led you into this type of work?
I fell into Contracts and Procurement after finishing law and realising that I didn't want to be a partner at a law firm. Soon after graduating, I was offered a role with United Group Rail that allowed me to use my legal background in a practical way to review and streamline supply contracts. I've since had a few site-based roles and focussed on construction contracts across a range of industries.
What do you bring to Critical Input that is unique and beneficial to clients?
My unique combination of formal legal training and practical site experience enables me to take a pragmatic and holistic approach to contracts, procurement and problem-solving.
Describe a typical day at Critical Input…
There's no such thing as a typical day and it's not unusual for original plans to be hijacked by higher priorities or client requirements. Usually, the day involves meetings with the client or CI team members and devising a solution of some kind – be it a procedure, a process flow, or a new form or template that streamlines how procurement functions.
Is there a particular type of work that you enjoy the most?
I like challenging work where I get to bounce ideas of smart people to achieve a solution to a complex problem. I'm a detailed person, but also enjoy being strategic and looking at the big picture, so anything where I can do both is my sweet spot.
What are some of the most common mistakes you see clients make when it comes to people and processes?
Not taking the time to understand the real problem. There is often a temptation to achieve 'quick wins' and look like progress is being made, but sometimes this is done at the expense of taking the time to make sure everything fits together as part of a packaged solution.
How do you know when you've done a good job or when a project has been a success?
From a client perspective, success is when the client is happy and they get what they want and more importantly what they need (as sometimes the two are different). From a personal perspective, a successful project is one where I can look back many years later and consider my work colleagues as friends and my clients and managers as people with whom there is a high degree of mutual respect.
Strengths
Contract strategies and formation
Contract management
Negotiation
Attention to detail and analytical skills
Contract claims and disputes
Continuous improvement.
Highlights
Preparing the Major Projects Procurement Framework for a large utility company
Overseeing the Early Tenderer Involvement (ETI) process for a large dam upgrade project
Managing the fast-tracked evaluation and award of a large Tank Refurbishment package for a petrochemical company which contributed to the successful achievement of an extremely time-critical schedule (independently assessed by IPA as only a 5% chance of success).
Working with a team of lawyers to assist a mining client in successfully defending the majority of a large payment claim from a contractor under the Building and Construction Industry Payments Act 2004 (Qld)
Working on-site for the Clermont Coal Mine Project with a great team of people.
Qualifications
Bachelor Business/Bachelor Laws, Graduate Diploma of Legal Practice
Memberships/licences
Society of Construction Lawyers Australia
https://www.criticalinput.com.au/wp-content/uploads/2021/10/Mel-Purcell-work-photo-3.jpg
3936
2624
CRITICAL Input
https://www.criticalinput.com.au/wp-content/uploads/2021/12/CI-Logo.png
CRITICAL Input
2021-10-26 06:27:03
2021-12-16 01:51:56
Meet Critical Input Senior Consultant Melanie Purcell