3a96c08c-e59b-412f-8aaf-903e8fee39b1

Building our capability
Every now and again, we get asked to explain what it is we do, so I thought I'd put together a summary of our core services.
Simply put, Critical Input is a business and process improvement consultancy.
We help our clients to improve their end-to-end supply chain processes through process improvement strategies, project management and staffing resources.
We're experts in supply chain, project management, people and process.
1. Supply Chain: Critical Input works across the end-to-end supply chain, delivering sustainable results with our proven change-management approach.
CI offers a wide range of 'hands-on' services, from supply chain planning support to expert project management, contract delivery and strategic procurement. We apply our proven change-management approach across your end-to-end supply chain to ensure sustainable results. This includes:
Supply chain management
Strategies
Procurement
Contracting
Category management
Contract management
Contract administration
Inventory and materials management
Warehousing and logistics.
We work with our clients to develop and design optimal supply chain structures and frameworks that minimise their costs and capital outlay. By aligning the supply chain to business strategy our clients, their customers and stakeholders receive maximum value from their investment.
Our expert team brings knowledge and practical experience in a variety of areas, from supply chain planning support to project management. We become part of our client's team and work with them in an on-going capacity to deliver the business outcomes they need.
Detailed negotiation planning and execution are part of CI's specialist support service. We have extensive experience with global contracting processes and large contract negotiations of more than US$500 million.
We assess, enhance and develop best practice end-to-end supply chain plans that synchronise our clients' people, planning and systems to ensure the best possible results.
2. Project Management: We work collaboratively with our clients to ensure the new and enhanced capabilities are fit-for-purpose and tailored to the context, maturity and requirements of their organisation.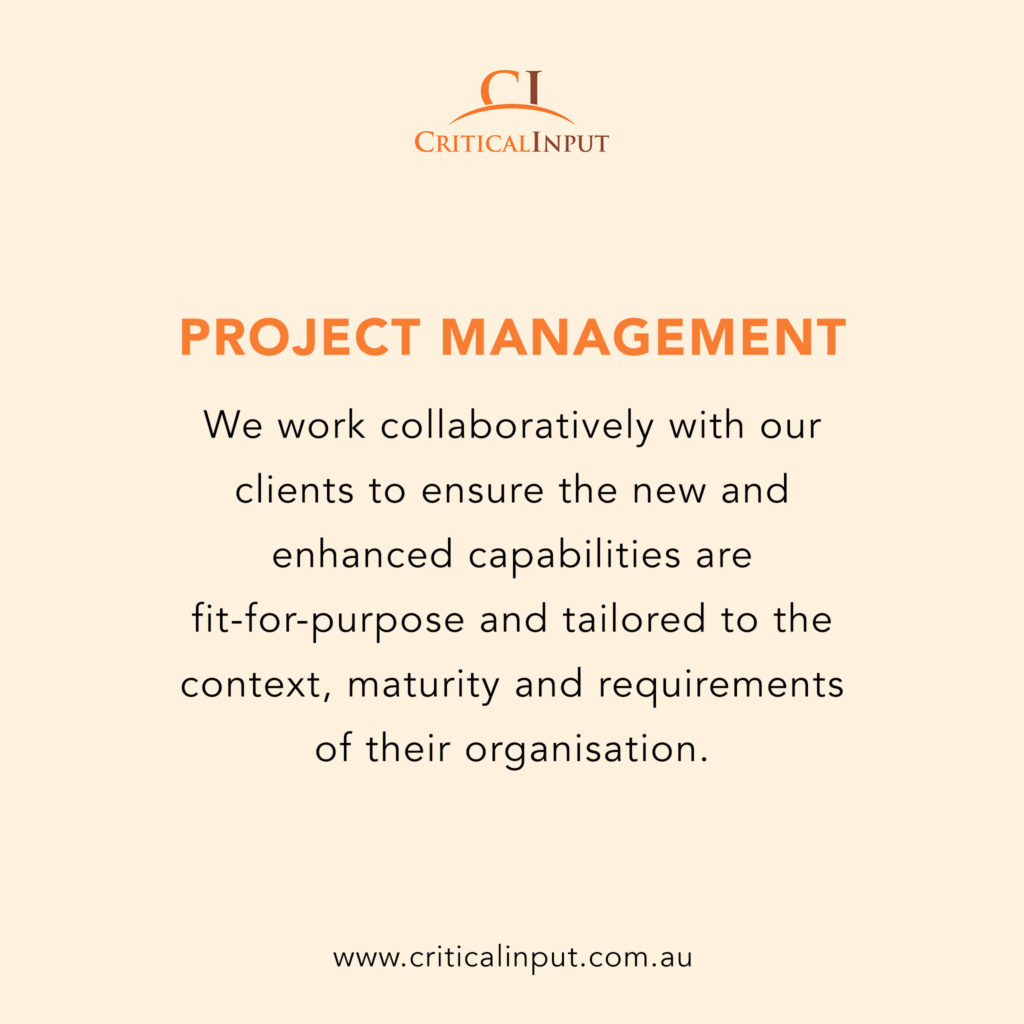 Project management is a team effort. We ensure our clients' new and enhanced capabilities are fit-for-purpose and tailored to meet their unique needs. CI's change management expertise ensures new systems are easy to sustain. Our capability-building services are supported by:
Strategic planning for P3M capability building programs, including:
Current and future state analysis
Development of supporting processes, procedures and templates.
Building P3M capability
We design, develop and deploy new or enhanced enterprise-wide or function/program specific capabilities, including:
Portfolio, program and project management methods and frameworks Project, program and portfolio management offices (P3Os/PMOs)
Program and project controls
Governance, including project gating and assurance.
Project reviews
Programs and projects are optimised for success and timely delivery.
Project health check: objective and independent review to identify actionable recommendations
Set-up for success: ensures all critical resourcing, planning, analysis and governance aspects are appropriately placed
Post-implementation review: independent and scalable review to assess the project's success. It captures lessons learnt, provides benefit realisation and actionable outcomes to assist future projects
Assurance: ongoing review of the effectiveness of key portfolio, program or project management practices.
Project and program delivery
Set-up project, program or portfolio delivery for success
Define and align project and program initiative/s with strategic objectives
Establish and support appropriate structures for decision-making Manage the execution of project or programs.
3. People: CI can provide skilled resources as backfill, for outsourcing purposes or as additional support.
Our highly skilled personnel include:
Supply chain managers
Procurement and contracts managers
Purchasing and contracts officers
Category managers
Category specialists/advisors
Logistics managers
Logistics officers
Warehousing and inventory personnel
Project directors
Project and construction managers
Project controls personnel
Contract administrators
Document controllers
Project administrators.
These resources can be engaged as consultants for project work, labour hire for role backfill or longer-term engagements as project or full-time employees.
Our extensive database of resources provides us with access to a diverse range of skillsets across a large geographical area.
4. Process: CI works with our clients to help understand, communicate and improve their processes.
Our services include:
Business process improvement: We formulate strategy for the structure, documentation and governance of business processes, including:
Process mapping, process analysis, process redesign and process standardisation
Identifying obstacles and required outcomes
Future process definition
Managing and support the change process, including development of documentation, processes and frameworks as required.
Organisational redesign and operational improvement: we work with clients to align strategic priorities and other growth areas, to reduce costs, and improve decision making and accountability
Root cause analysis/incident process reviews: we review business processes, gap and failure analysis.
Documentation: we produce business documentation for "As Is", or "To Be" process, policy and procedures.
Governance: we devise methods to measure performance and compliance and the required corrective and improvement actions
DIFFERENTIATORS
At the centre of everything Critical Input does are three principles: process, because without process, there is no destination; people, because without buy-in, there is no evolution; and principles – because integrity is everything.